I-285/I-20 West Interchange
The I-285/I-20 West Interchange project calls for improvements of the interchange and addition of lanes along I-20 in Cobb, Douglas, and Fulton counties. Additional work includes construction of collector-distributor (CD) lanes and the modification or replacements of seven bridges along I-20. This project, once completed, will provide more efficient traffic flow through the interchange.
Project Map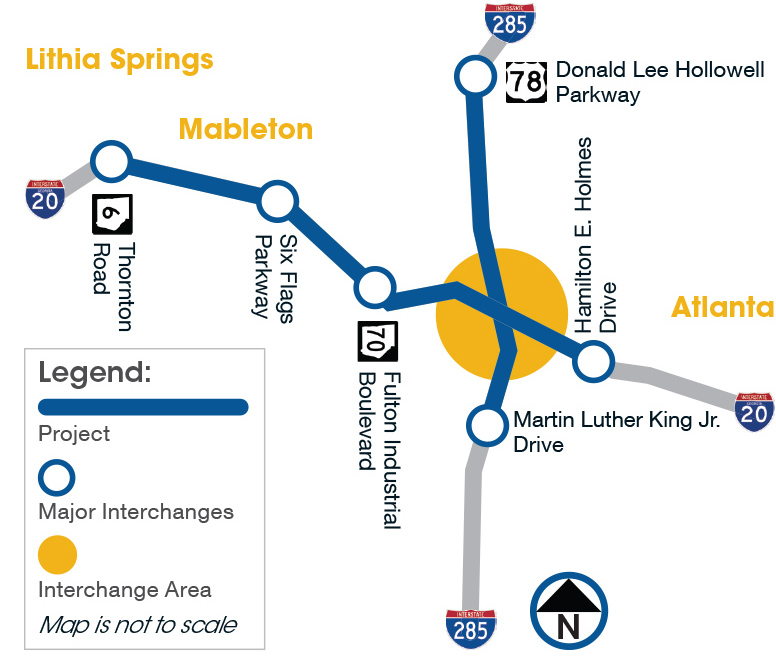 Additional Project Information
Additional Project Information
• Reconstructing the interchange to remove left hand exits and improve design speed, and modification and/ or replacement of existing bridges and ramps
• Construction of I-20 westbound collector-distributor (CD) system from the interchange to Fulton Industrial Boulevard (FIB)
• Construction of lanes and improvements along eight miles of I-20 in both directions from Thornton Road to Hamilton E. Holmes Drive
• Modification and/or replacement of bridges along I-20, including bridges over CSX Railroad and Chattahoochee River
• Addition of new lane and improvements along two miles of I-285 southbound from Hollowell Parkway to Martin Luther King Jr. Drive
*Collector-distributor (CD) lanes run parallel to the main travel lanes of an interstate or highway, connecting them to access roads or entrance ramps in order to improve traffic flow, speed, and safety.
Project Public Participation
Virtual Information Meeting/Public Information Open House
In September 2020, Georgia DOT posted information at www.dot.ga.gov/I285I20W related to the proposed I-285/I-20 West Interchange project. The purpose of the virtual PIOH website was to provide a safe, social-distanced opportunity for the public to review materials on the proposed project, provide feedback, and submit questions and comments for the project record. Two live chat sessions were also held, which allowed for the public to ask questions to the project team.
Noise Barriers
Noise barriers will be evaluated as part of this project in accordance with the Georgia DOT noise policy and Federal Highway Administration noise regulations. As the environmental field work and roadway design moves forward, property owners and renters who are eligible for a proposed noise barrier will be notified of the opportunity to participate in noise barrier voting. Download a noise barrier fact sheet here.
---
Contact Information
Email: WestInterchange@dot.ga.gov
Phone: 470-370-5565
Mailing Address: Georgia DOT – One Georgia Center, 600 West Peachtree Street, Atlanta, GA 30308