I-85 Widening, Phase I
The I-85 Widening project is the first of the Major Mobility Investment Program (MMIP) projects to start construction. It is currently on schedule to complete in mid-2020. This project provides relief to motorists in this heavily congested area by widening I-85 from two to three lanes in both directions from I-985 to SR 53 in Gwinnett, Barrow, and Jackson counties. The project consists of:
Reducing the grass median with a paved shoulder and median barrier
Replacing three 50+ year old overpass bridges(Spout Springs Road bridge, Flowery Branch Road bridge, and Jesse Cronic Road bridge)
Upgrading signing, striping, and the guardrail
Project Map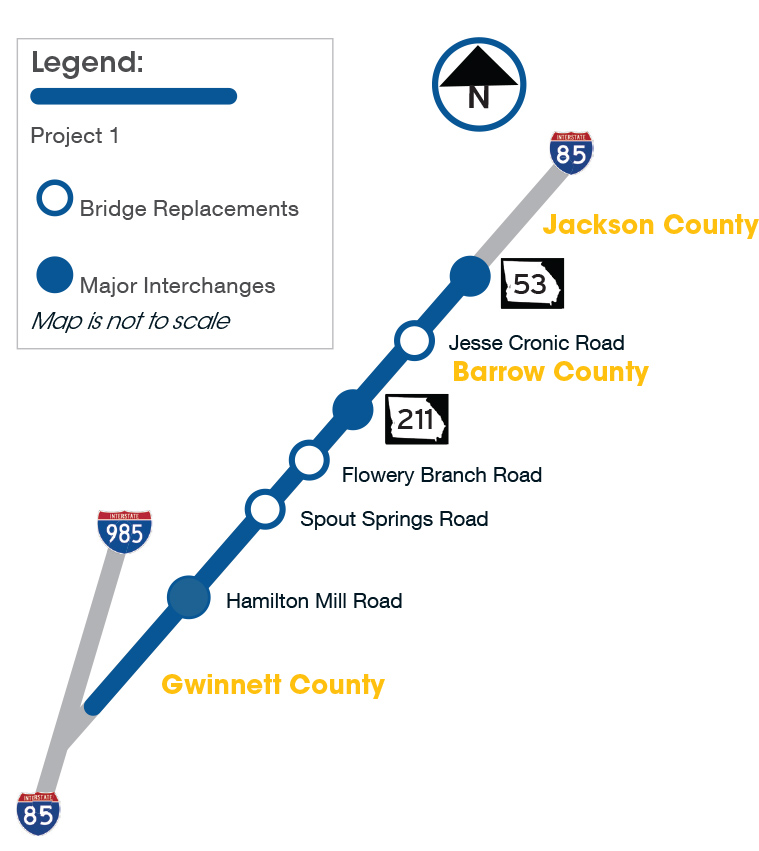 Interactive Timeline
2016-2017

2016

2018

2018

January 2019

June 2019

July 2019

July 2019

December 2019

2020
Hosted a series of Public Information Open House (PIOH) meetings to show current concept plans and receive feedback.
Project Status
Georgia DOT selected Design-Build team (C.W. Matthews) who will design and construct the project using an accelerated process. Construction began in July 2018, reached its halfway point milestone in July 2019, and is scheduled to complete in mid-2020.
Noise Barriers
Noise barriers were evaluated as part of this project in accordance with the Georgia DOT noise policy and Federal Highway Administration noise regulations. Property owners and renters who would benefit from a proposed noise barrier were given the opportunity to participate in noise barrier voting. Download a noise barrier fact sheet here.
---
Contact Information
Email: 85Widening@dot.ga.gov
Phone: 404-347-0185
Mailing Address: 899 Highway 124, Braselton, GA 30517 (field office)