The I-285 Westside Express Lanes project plans to add one optional, buffer-separated express lane in each direction on I-285 between Paces Ferry Road in Cobb County and just north of I-20 in Fulton County.
The delivery schedule of the project has been evaluated and sequenced to help with more effective maintenance of traffic during construction. The new project schedule will contribute to less disruptive construction congestion and impacts to local roads during major express lanes construction.
Project Map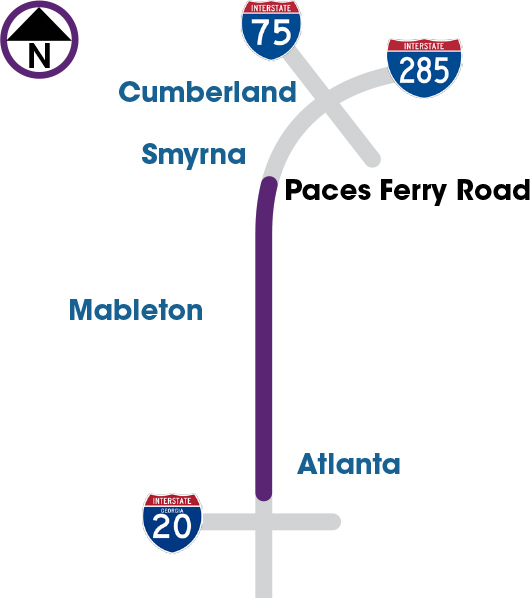 Georgia Express Lanes
The Georgia Express Lanes are a network of optional, priced managed lanes that run alongside existing interstates in some of the most congested corridors around metro Atlanta. These lanes provide motorists and transit customers with a choice for more reliable trip times during peak travel periods. The result is a network of lanes that provide more reliable and predictable travel times. All Georgia Express Lanes rely on congestion pricing, with toll rates rising as demand increases during peak periods of travel and falling at off-peak times. Read more here.
Noise Barriers
Noise barriers will be evaluated as part of this project in accordance with the Georgia DOT noise policy and Federal Highway Administration noise regulations. As the environmental field work and roadway design moves forward, property owners and renters who are eligible for a proposed noise barrier will be notified of the opportunity to participate in noise barrier voting. Download a noise barrier fact sheet here.
---
Contact Information
Email: WestsideExpressLanes@dot.ga.gov
Phone: 770-384-6738
Mailing Address: Georgia DOT – One Georgia Center, 600 West Peachtree Street, Atlanta, GA 30308